H2 WATER GENERATOR PROFESSIONAL - HYDROGEN WATER GENERATOR up to 4.5 ppm hydrogen concentration + GIFT













---
Original price
2 037,20 €
---
---
---
Up to 4.5 ppm hydrogen concentration - the highest concentration on the market worldwide PATENTED TECHNOLOGY.

H2 PROFESSIONAL WATER GENERATOR - HYDROGEN WATER GENERATOR uses a unique method to prepare highly enriched water with molecular hydrogen (so-called cathode electrolysis and dissolved hydrogen isolation technology). The device connects directly to your water supply at home or at work, so you always have it available. It can produce up to an incredible 16 liters of water per day (700 ml/min of treated water suitable for direct drinking). Thanks to the PME technology used, hydrogen is supplied with a purity of 99.99%. This pure hydrogen is passed through a patented mixing technology to produce highly hydrogen-enriched water. More
Thanks to this device, the concentration of molecular hydrogen dissolved in drinking water can reach up to 4500 PPB (4.5 PPM), depending on the quality of the drinking water. The ORP value can reach up to -450 mV.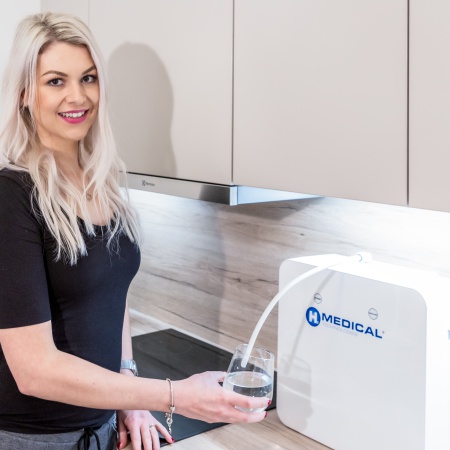 The device's internal electrolytic cell uses the pure water PEM electrolysis method, which can stably produce hydrogen with a purity of 99.99%. Pure hydrogen is passed through a patented mixing technology to produce highly hydrogen-enriched water.
This technology does not change the pH or TDS value of the water ("Total Dissolved Solids" is a basic water test to determine the amount of dissolved substances in water - minerals, salts, metals, etc.). Drinking water does not come into contact with the electrolytic cell, thereby preventing the ingestion of metal ions that are released from the metal coating during the electrolysis process. This ensures that every drop of hydrogen-enriched water is safe and clean.
Thanks to contactless delivery of anion energy, the combination of hydrogen and water molecules has a stronger bond.
Fully automatic hydrogen delivery can provide up to 16 liters of highly hydrogen-enriched water per day.
The device is equipped with a protection system against interruption of the water supply.
In addition to producing hydrogen-enriched water, the device also supplies ordinary drinking water for cleaning or cooking.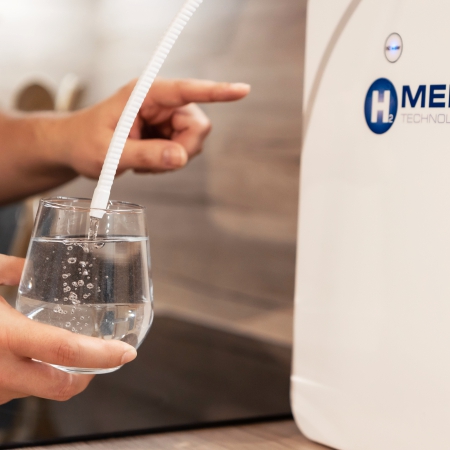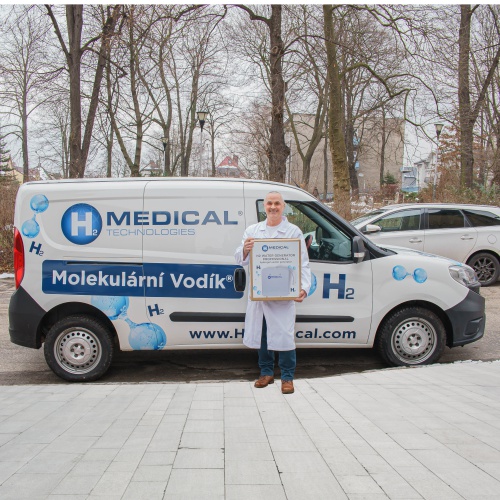 Never disassemble the device. Entrust service and repairs only to our H2 Medical Technologies service center. During the warranty period, the technician of the service center will come to you once a year and perform all service operations associated with the required annual maintenance free of charge. This product has received EU certification. Please read this manual carefully before use and save it properly.
---
Volume and capacity: up to 16 l per day (700 ml/min of treated water suitable for direct drinking)
Weight: 9.5 kg
Color: white
Material: Food grade plastic, membrane - cathode, anode (titanium-platinum layer)
Package contents:< /strong> Dimensions: (without output tube) h=350 mm, w=50 mm, d=145 mm
Power supply: 220V, 100~220V /50~60 Hz, 50 W
Concentration: By using the device correctly, you can achieve a concentration of up to 4.5 ppm depending on the parameters of the water used.
ORP up to - 450 mV
Generator body 1 piece
¼" split elbow with 6 pieces thread
Water outlet hose 1 piece
¼" elbow with quick coupling 2 pieces
Mains power supply 1 piece
Special funnel 1 piece
Inlet 3-way ball valve 1 piece
¼" stopper 1 piece
PE tube ¼" 3 m
3/8" plug 1 piece
Operating manual (with certificate) 1 piece
Suction cup 1 piece
3-way quick coupler ¼" 1 piece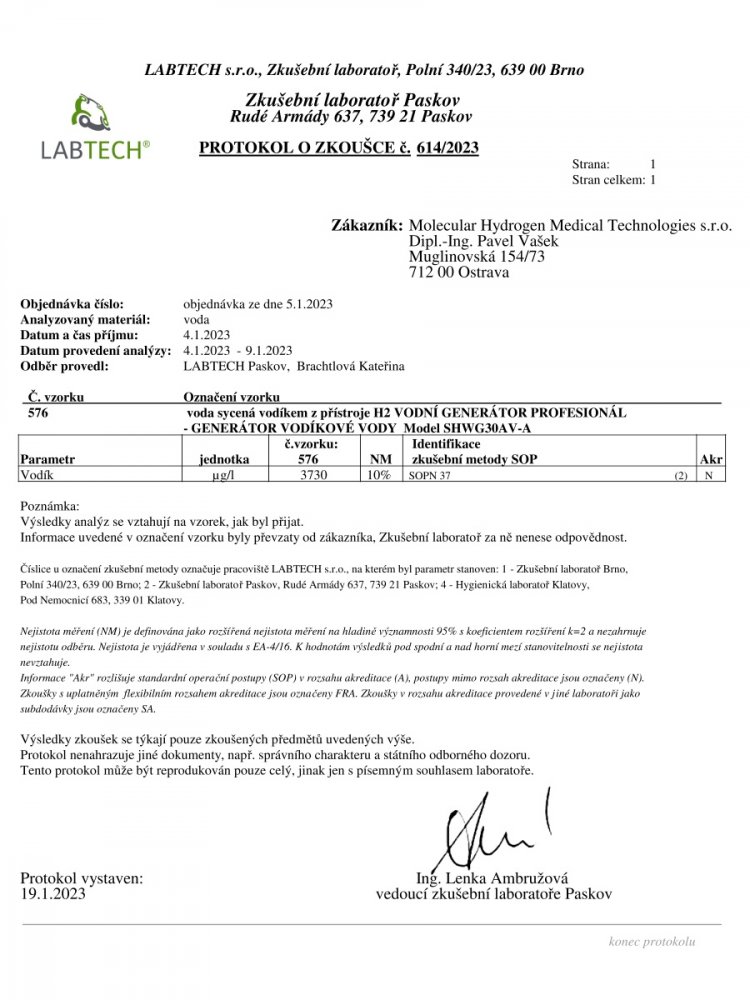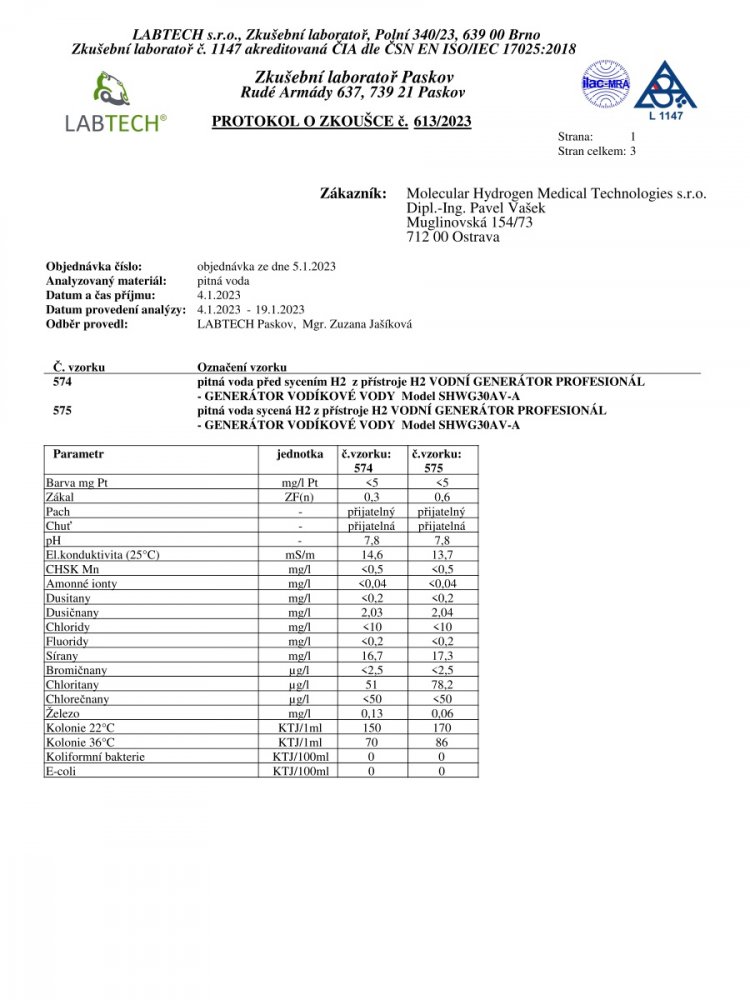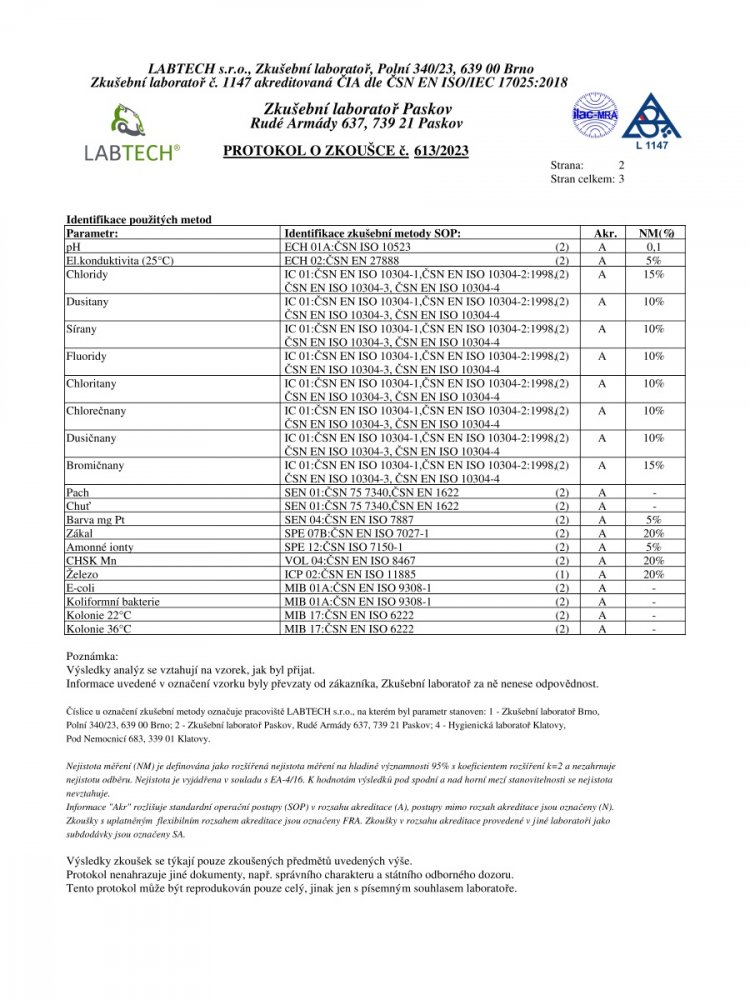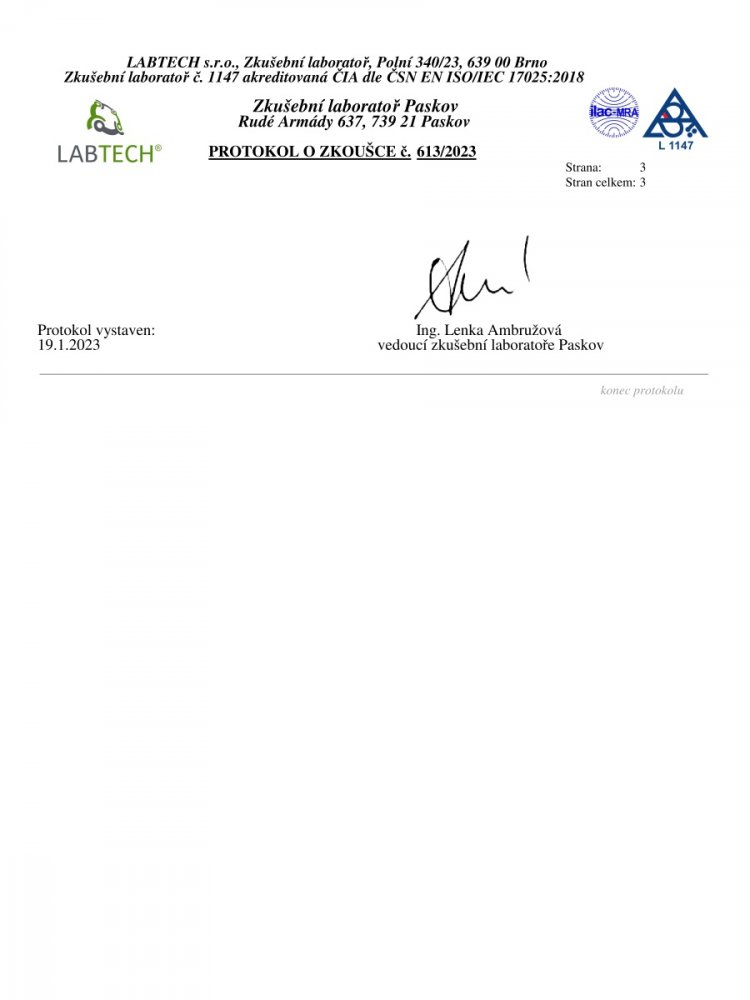 Alternative products (3)


PATENTED TECHNOLOGY. MULTIFUNCTIONAL HYDROGEN INHALER i300 MHG 6in1 Wellness Generator has six unique uses.


Rating value is 5 of 5
Skladem
Molecular Hydrogen® Generator Our 3 in 1 hydrogen bottle offers 3 possibilities of use: - carbonated water in an original container made…


The advanced technology of electrodes and membranes that we use in our devices allows us to produce pure hydrogen with a concentration of 9…